AUTOMATED MEASUREMENT AND DATA ANALYSIS
is a cornerstone of optimizing and increasing effectivity of energetics management or company processes.
We deliver modular, highly flexible IoT projects which will allow you to have a real-time overview about your systems, devices and machines status as well as to save time, costs and energies.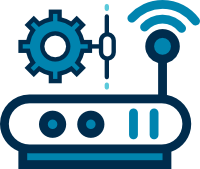 Deployment
energetics

industry

agriculture

property management

logistics

retail

Applications
measuring physical parameters in the environment

industrial machines and devices status monitoring

predictive maintenance of industrial engines

heating / cooling / lighting management

energy consumption optimization in the industry and agriculture

remote energy meters reading

Advantages
complexity - we deliver sensors, communication infrastructure and a management software

wireless IoT devices

simple installation and usage

transparent data visualizations

integration into existing infrastructure
COMPLEXITY
Thanks to our experience we will design and deliver comprehensive IoT system - both software and hardware.
FLEXIBILITY
We are able to deliver either whole IoT system or separate parts of your choice.
The software part - KM Data Analyzer - can be connected to existing IoT infrastructure as well.
ENERGY AND MATERIAL SAVINGS
We lower an environmental impact by optimizing energy consumption, wireless sensors usage and utilizing predictive machine mamaintenance.